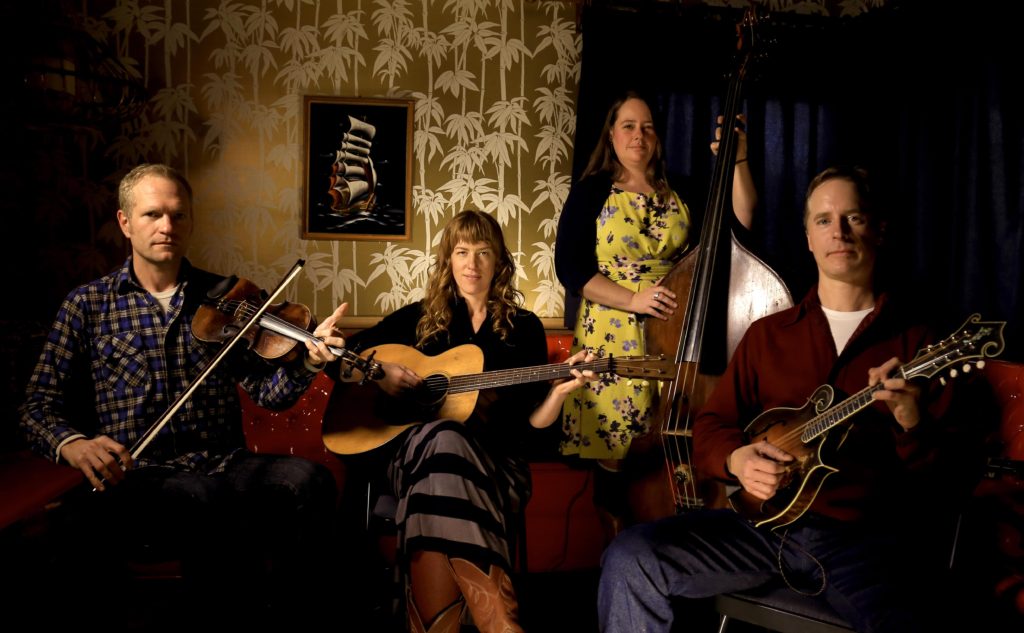 ———————————-
Foghorn is returning to the Tiki Parlour! Tickets are on SOLD OUT!
———————————-
We are proud to present an evening with this smoking, barn bustin' old-time superforce that redefined modern old-time string band music!
On Monday, September 18th 2017 at 7:30PM, Foghorn will mark their return to Los Angeles!
Venue Info and Tickets are available
HERE
.
 ———————————-
The Foghorn Stringband is the present day shining gold standard for American string band music, with eight albums, thousands of shows, over a decade of touring under their belts, and an entirely new generation of old-time musicians following their lead. They've been steadily proving that American roots music is a never-ending well of inspiration.
The music of The Foghorn Stringband revolves around four master musicians: Portland, Oregon-based Caleb Klauder (vocals, mandolin, fiddle) and Reeb Willms (vocals, guitar), and Yukon-based Nadine Landry (vocals, upright bass) and Stephen 'Sammy' Lind (vocals, fiddle, banjo). Each member of The Foghorn Stringband comes not only from a different part of the American roots music spectrum, but leads the pack in their field as well. Caleb Klauder's wistful, keening vocals and rapid-fire mandolin picking are as influenced by Southern roots music as much as by his upbringing in Washington State. Also from Washington, Reeb Willms grew up in the state's Eastern farmlands singing hard-bitten honky-tonk with her family. Nadine Landry's roots lie in the rural backroads of Acadian Québec, but she cut her teeth as one of the best bluegrass bassists in Western Canada. Minnesotan Stephen 'Sammy' Lind, simply put, is one of the best old-time fiddlers of his generation and has a voice that sounds like it's coming from an old 78.
Onstage, The Foghorn Stringband gather around one microphone, balancing their music on the fly, and playing with an intense, fiery abandon.
To Foghorn, this music is as relevant today as it was a century ago. They see themselves not as revivalists, but as curators and ardent fans, and their music is a celebration of these roots. From their origins in Portland Oregon's underground roots music scene in the late 90s and early 00s, when members of today's hot bands like The Decemberists and Blind Pilot were gathering to explore the roots of American folk music, The Foghorn Stringband have spread the old-time string band gospel all over the world. Along the way, they've brought in influences and inspirations from their many travels and late-night jam sessions. Old-time square dance tunes now rub shoulders with Cajun waltzes, vintage honky-tonk songs, and pre-bluegrass picking. This is the kind of bubbling musical brew which first intoxicated the American mainstream in the day.