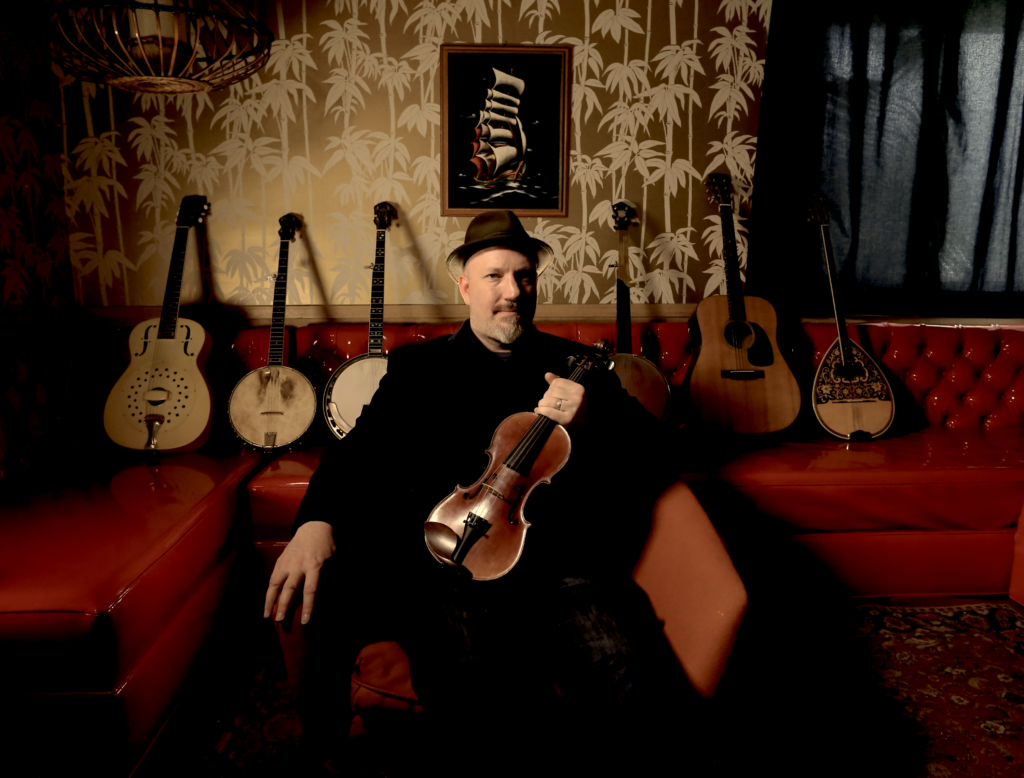 David Bragger is a Los Angeles-based old-time musician, instructor and co-founder of Tiki Parlour Recordings. He is also the curator of The Old-Time Tiki Parlour. David was an itinerant street magician, collector of South Asian folk tales and filmmaker before his obsession for playing and documenting traditional American music. David has recorded fiddle, banjo, mandolin and guitar with stringband Sausage Grinder, his duo David Bragger & Susan Platz, his duo with Rafe Stefanini and with Bad Religion's Greg Graffin to name a few. He has also recorded the featured fiddle and banjo parts for the critically-acclaimed western Gone Are the Days.
After years of visiting with and studying old-time musicians including Mel Durham, Tom Sauber, Dan Gellert, Charlie Acuff, Benton Flippen, Clyde Davenport and Joe Thompson, David is a go-to-guru for learning old-time fiddle, banjo and mandolin. He has students all over the world and is in great demand as a workshop teacher at traditional music festivals. David is also the Old-Time String Band Ensemble director at the UCLA Department of Ethnomusicology. In addition to teaching, he documents the greatest living old-time musicians for future generations.  David directs, shoots, records, edits and spearheads the vision of Tiki Parlour Recordings.
See David's full biography written by Variety's Roy Trakin HERE
Old-Time Tiki Parlour article from No Depression!
Review for David Bragger's solo album "Big Fancy" from No Depression!
Discography