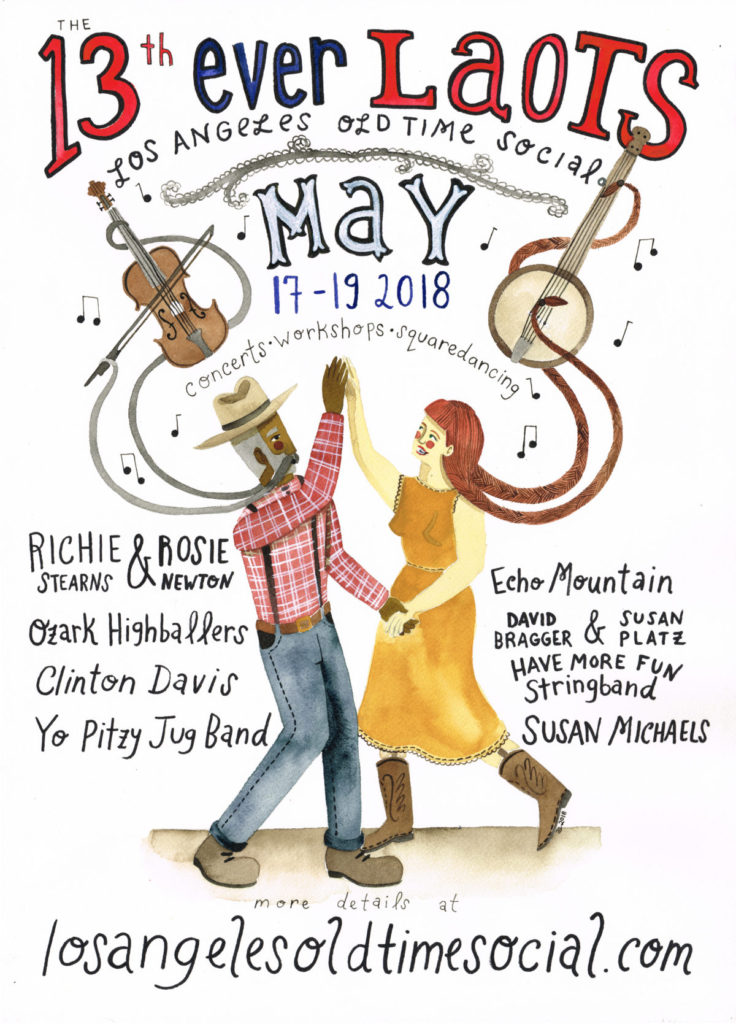 For more information about the entire 3-day event, click HERE.
Workshops
DAY & Time: Saturday, May 19th 12pm – 6pm
WHERE: American Legion Hall, Post 206
227 N. Ave. 55, 90042
:: UPSTAIRS ::
12:00-2:00 Sacred Harp Shape-Note Singing with Los Angeles' Sacred Harp Beginners Club
The Sacred Harp Beginners Club began one day in LA in the comforts of someone's home or on the tip-top of a glorious hill. They met week after week with creative hiatuses now and then only to continue as beginners three years later. A group of trained perfectionists and genuine newbs, they still review the songs section by section, singing through all versus in order to achieve the greatest satisfaction.
The workshop will be led by Brandon Armstrong, David Elsenbroich, Andrea Tzvetkov, and more Beginners Club regulars.
2:00-4:00 Square Dance Calling—Susan Michaels
Learn how to call squares for your friends and family. Beginners welcome. Or just show up and get your dancing shoes on.
SUSAN MICHAELS is a teacher and a caller of traditional American dancing, especially contra dancing and square dancing. She has called and taught dances at local evenings, weekend workshops, week-long elementary school programs, week-long family camps and dance weekends throughout the U.S. and Canada.
4:00-5:00 Flatfooting with Ira Bernstein and Ruth Alpert
IRA will teach an open level Flatfooting workshop. He will teach a few basic steps, including the Walking Step (also called the Buck Step), with an emphasis on style, nuance, and musicality. He will also field requests from the more experienced dancers.
For nearly four decades IRA BERNSTEIN toured internationally, performing traditional southern Appalachian flatfooting and other forms of percussive step dancing in concerts and at festivals. The Queen Elizabeth Hall in London, England, Maison de la Danse in Lyon, France, the Alte Oper in Frankfurt, Germany, Lincoln Center in New York City, and the Smithsonian Institution in Washington, D.C. are a few of the noteworthy venues at which he appeared. He has been a member of the highly influential and esteemed companies The Fiddle Puppets of Annapolis, MD and the American Tap Dance Orchestra of New York City, and has shared the stage with many of the world's greatest tap and step dancers, including, Savion Glover, Gregory Hines, Honi Coles, Sandman Sims, and Brenda Bufalino. Credited to be a founding father of the current percussive step dance scene, Mr. Bernstein no longer performs due to health issues, but he continues to teach and be an inspiration and resource to percussive dancers around the world.
RUTH ALPERT has been flatfooting for 34 years. She has taught workshops, danced with old-time Appalachian string bands, busked (street performed) in various cities in at least 6 states, and is a two time National Champion in Senior Buck Dancing, 2013 and 2014. Currently, Ruth is the percussion section of The Honeysuckle Possums, an all-female string band playing original and traditional music.
5:00-6:00 Cajun Dancing with Ira Bernstein
IRA will teach an Introductory Level Cajun Dance workshop covering two-steps and waltzes. The focus will be old school in which the emphasis will be on dancing in step with the music and one's partner, rather than fancy, complex moves.
IRA BERNSTEIN is an accomplished Cajun dance instructor. Since his first trip to Eunice and Mamou in 1981, he has made numerous return visits to southwest Louisiana to dance in the local Cajun and Creole dance halls and music bars. He learned by watching the best dancers and then asking them to dance. He presents "old school" Cajun two steps and waltzes, and has led workshops at numerous festivals and camps across to country.
+++++++++++
:: DOWNSTAIRS ::
12:00-1:00 Fiddle with Rosie Newton
Old Time fiddle workshop will focus on learning tunes by ear. We will also talk about bowings and rhythms typically found in this kind of music.
1:00-2:00 Banjo with Richie Stearns
In the clawhammer banjo workshop Richie will discuss basic technique as well as tips on playing with fiddle player, and learning tunes.
2:00-3:00 Life and Music of Dick Hutchison and other Ozark Fiddle Tunes
Roy Pilgrim is a Fayetteville native who began playing music with neighbors at the age of eight. He is an avid student of early American fiddle music, and he also works as a carpenter and sawyer. He and Aviva live and garden on their farm just south of Fayetteville, Arkansas. He received the Mulkey Kent award in 2017 for "outstanding Ozark fiddling" and has recently recorded 10 segments of "Fine Fiddlers of the Ozarks" which is broadcast on Ozark Highl
3:00-4:00 Old-Time Fiddle Tunes & Bowing with David Bragger
David will draw from a vast repertoire of Kentucky, West Virginia, Tennessee and North Carolina fiddle tunes that are rhythmic and easy to grasp. The objective is to get the fiddler playing some incredible tunes with a focus on rhythm and interchangeable variations. As always, my workshops emphasize the key ingredient to old-time fiddle: Bowing!! All workshop attendees will receive audio files of the tunes with phrase by phrase instruction. Please email [email protected] for registration and questions. This workshop is for all levels!
David Bragger plays fiddle in the old-time stringband Sausage Grinder. David teaches old-time fiddle, banjo and mandolin to students of all ages and levels. He is also the founder of the Old Time Tiki Parlour (oldtimetikiparlour.com) which produces concerts, workshops, CDs and films by the best old-time musicians alive, including Kirk Sutphin, Dan Gellert, Bruce Molsky, Paul Brown, Bob Carlin, Eric & Suzy Thompson, Mike Compton, Joe Newberry, Scott Prouty, etc. David is in high demand as a fiddle teacher at festivals and has private students in four continents! He is known for his ability to break down tunes and bowing with ease and clarity.
4:00-5:00 Old Time Guitar Intro to Bass Runs with Aviva Steigmeyer
Aviva Steigmeyer was born in Washington State and lived several years in Virginia before moving to Arkansas in 2014. She plays guitar, cello, and sings with the Ozark Highballers, and is also a print-maker, gardener, and builder of early 1900s-style parlor guitars. Her guitars and prints can be found at www.preservationguitar.com
5:00-6:00 Old-Time 2-Finger Banjo Basics with Chris Berry
If you've only played clawhammer, come learn a different, easy and fun way to play – two-finger thumb lead. It's great for songs and instrumentals both. If you already play two-finger, there'll be things for you to learn too! Just bring your thumb, index finger and a banjo!
Chris Berry plays guitar and banjo in the old-time stringband Sausage Grinder. "He is an amazing teacher," says Kelly Marie Martin!