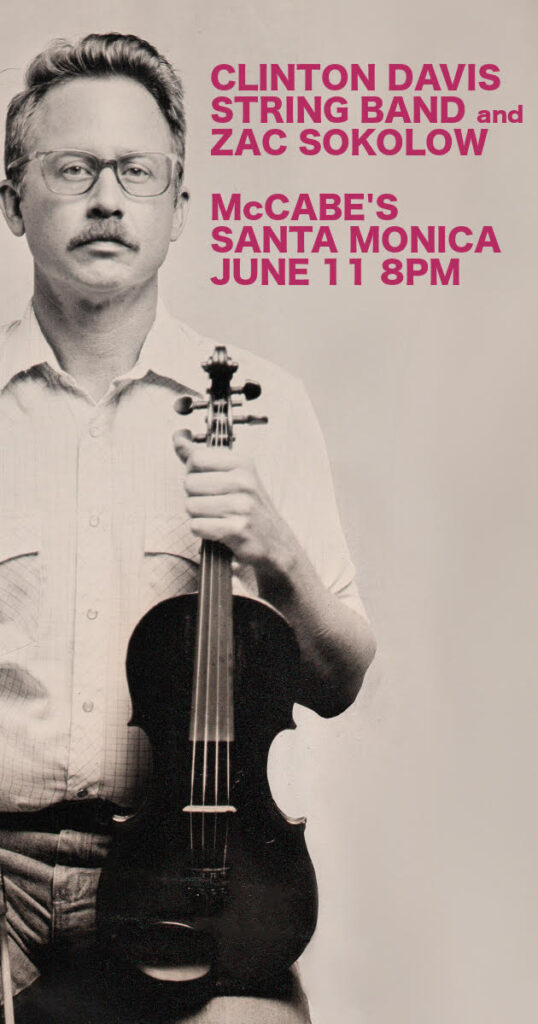 Tiki Parlour recording artist Clinton Davis is performing at McCabe's on June 11th.
His CD "If I Live and I Don't Get Killed" is available HERE.
Clinton is an old time folk musician
currently based in San Diego, California. A
fifth-generation Kentuckian, Davis grew up in
rural Carroll County. His repertoire spans fiddle
and banjo music native to his family home, the
exuberant ragtime piano and guitar of early
20th-century New Orleans, and ballad songs and
dance music of the Southwest.
Davis' prowess across instruments and
traditional American styles has gained notice
from the standard-bearers of previous
generations, and earned him a place amongst a
new generation of American folk musicians.
He has worked closely with roots guitar legends
Jim Kweskin and Stefan Grossman, and is an
official artist for Deering Banjos. In 2022, Davis
received the commission of Kentucky Colonel in
recognition of his work as a performer and
educator. The Colonelcy is the highest civilian
honor bestowed by the commonwealth of Kentucky.
Zac Sokolow plays banjo and fiddle and sings, playing a combination of
old ballads, gospel songs, fiddle tunes and banjo instrumentals. Coming
from a family of musicians, Zac grew up playing music from an early age.
He started out performing with his father Fred Sokolow as a child, and
has since toured around the world playing with The Americans, and with
fellow California old time musician Frank Fairfield.