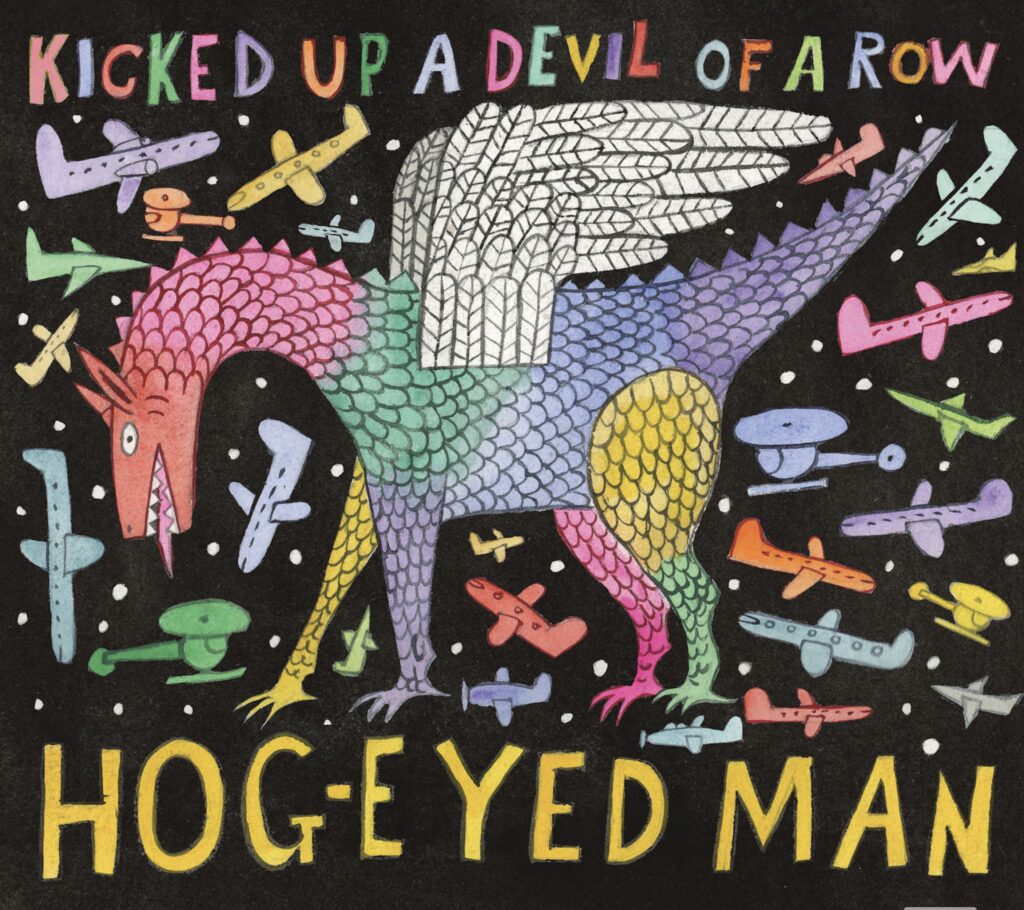 Georgia's Hog-eyed Man returns with a vibrant album of transcendent old-time music, featuring Clifftop fiddle contest winner Jason Cade, innovative multi-instrumentalist Rob McMaken, and guest musicians Maxine Gerber (banjo), Brendan Doyle (banjo), and David Bragger (guitar). The physical CD showcases folk art by Howard Rains and detailed liner notes by Jason Cade and Rob McMaken.
–RELEASE DATE: July 14, 2023–
PURCHASE the CD now at the online Tiki Parlour SHOP.
For DIGITAL PRE-ORDERS go to Tiki Parlour Recordings' official BANDCAMP page.
"The new Hog-Eyed Man album is glorious! I've been a superfan ever since their first CD, and their recordings are among my all-time favorites, on constant play at my house. "Kicked Up a Devil of a Row" may be my favorite yet! Such a great collection of tunes, beautiful arrangements, and the most gorgeous album cover, too! Jason and Rob share heartfelt artistry in the oldest sounds of Appalachian music, and with room for creativity and brilliant inspiration. Absolutely wonderful!" –Jimmy Triplett
Produced by David Bragger & Richard Hocutt
Liner Notes by Jason Cade and Rob McMaken
Folk Art and CD Design by Howard Rains
---
Kicked Up a Devil of a Row (2:31)
Brad Walters (2:26)
Nancy Dawson (3:00)
Isolation (2:35)
Polly Grand (2:10)
Devil's Dream (2:22)
Little Bobby (2:20)
Wagoner (2:18
Slow Buck (2:15)
Cacklin Hen (3:12)
Glory in the Meetinghouse (1:59)
The Surround / Foxhunter's Jug (3:39)
Bucking Mule (2:52)
Walking the Water (2:28)
Three-in-One Two Step (2:42)
Paddy on the Turnpike (2:56)
New Five Cents (2:52)
Sweet 'Bama (2:48)
Lost Girl (2:24)
Arkansas Hoosier (3:00)
Go Away, Pharaoh (1:43)
Goff's Crossing (2:19)